This Week, May 14-18, 2012
Printer-friendly version

Recent Academy Activity, May 14–18, 2012
Academy News
Member Alerts
Pension: The Pension Practice Council provided its actuarial perspective to the U.S. Congress on the Senate-passed pension funding stabilization language currently being considered by conferees as a rider attached to a surface transportation bill. Log in to read the full alert.

General Insurance: The Actuarial Soundness Task Force issued a public policy special report, Actuarial Soundness. Log in to read the full alert.
Website: New Postings
Recently Released Publications
Retirement Account, Second Quarter: Read about the Academy's public policy activities in the pension arena in the latest edition.
Upcoming Events
Date for the next Council on Professionalism webinar announced: June 25.
Note: Some links in this e-mail go to external websites and may require registration. The Academy is not responsible for the content of these websites. Links may expire.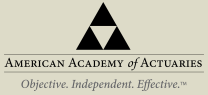 PLEASE DO NOT REPLY TO THIS EMAIL. THIS EMAIL ADDRESS IS NOT MONITORED.
If you would like more information or to contact the Academy, please visit us at www.actuary.org/aboutus.asp

Sign up to follow the Academy on Twitter.
Rather not receive Academy emails? Unsubscribe by emailing membership@actuary.org.
---
1850 M Street NW • Suite 300 • Washington, DC 20036 • 202.223.8196 • www.actuary.org
Copyright 2012 American Academy of Actuaries. All rights reserved.