This Week, March 5 - 9, 2018
Printer-friendly version
Read the latest news from the Academy.
Recent Academy Activity, March 5–9, 2018
Health Volunteers Visit Capitol Hill to Discuss New Issue Brief on Prescription Drug Costs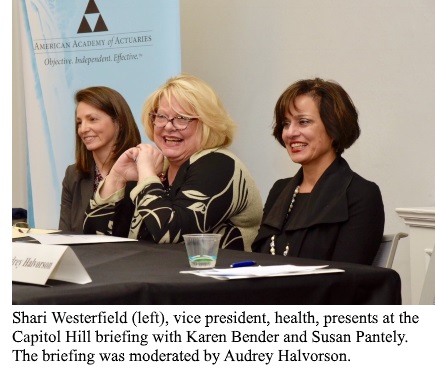 The Academy's Health Practice Council (HPC) gave a briefing Friday on Capitol Hill to policymakers and congressional and federal agency staff, offering an actuarial perspective on prescription drug costs in the U.S. health care system and highlighting the Prescription Drug Work Group's new issue brief on the subject, released this week.
The briefing capped the HPC's spring visits to House, Senate, and federal agency offices on Thursday and Friday. The annual Capitol Hill event by Academy health volunteers was well-received by about 40 congressional staff members and agency officials.
The HPC has undertaken a multiyear study of various cost components of the U.S. health care system, and its members provided expertise on the drivers of growth in drug expenses; benefits versus costs for new treatments; the impact of high and increasing prescription drug costs on payers; and options to address spending. The briefing on Capitol Hill spotlighted the Academy's research on the complicated topic.
Next Week—Professionalism Webinar to Explore the USQS
Have an in-depth look at the U.S. Qualification Standards (USQS) during "A Guided Tour of the U.S. Qualification Standards," which will be held next Thursday, March 15, from noon to 1:30 p.m. EDT. Committee on Qualifications members Hal Tepfer (vice chairperson), Keith Passwater (former chairperson), and Tom Campbell (Academy Secretary-Treasurer) will discuss questions frequently asked about the USQS provisions, including statements of actuarial opinion, experience requirements, the "look in the mirror test," cross-border practice, and qualifications needed to enter new practice areas. They will also highlight the many Academy tools available to aid in understanding and to help document compliance with the USQS. Register today.
Academy Responds to NAIC on Attestation and Experience Questions
Past Academy President Mary D. Miller submitted two letters from the Academy to the NAIC this week—one responding to NAIC's Casualty Actuarial and Statistical Task Force's (CASTF) request for comments on the appointed actuary's public attestation and supporting confidential documentation, and a second responding to CASTF's request for proposals on the three-year experience period.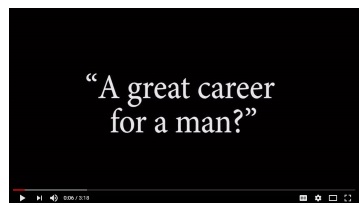 Video Highlights Women Actuaries
March is Women's History Month, and Thursday, March 8, was International Women's Day. Check out this Academy video with leading women actuaries reflecting on their experiences in the profession. Please share it on your own social media channels.
Public Employment Opportunity
The Texas Department of Insurance has a public employment opportunity for a life and health actuary to work in principle-based reserving (PBR). The position involves actuarial analysis of PBR, asset adequacy analysis, and other requirements for life and health insurance companies as provided in the Valuation Manual adopted by the department. See the full job description on the department's website.
The Academy has long supported government employers who are seeking to hire qualified actuaries. See our Public Employment Opportunity Posting Policy for more information.
Public Policy Activities
The Individual and Small Group Markets Committee sent comments to the U.S. Department of Labor on proposed rules regarding the definition of ''Employer'' under section 3(5) of the Employee Retirement Income Security Act of 1974 (ERISA)—association health plans.

The Intersector Group released the notes of its October meetings with the Pension Benefit Guaranty Corporation and the IRS and Treasury Department.
Upcoming Events
A Guided Tour of the U.S. Qualification Standards—March 15, professionalism webinar

Enrolled Actuaries Meeting—April 8–11, Washington, D.C.

Seminar on Implementing IFRS 17 for Long-Duration Contracts—Aug. 28–30, Washington, D.C.

Casualty Loss Reserve Seminar (CLRS) & Workshops—Sept. 5–7, Anaheim, Calif.

Annual Meeting and Public Policy Forum—Nov. 1–2, Washington, D.C.

Life and Health Qualifications Seminar—Nov. 4–8, Arlington, Va.
In the News
Note: Some links in this email go to external websites and may require registration. The Academy is not responsible for the content of these websites. Links may expire.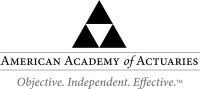 Follow the Academy on Facebook, LinkedIn, and Twitter.

---
1850 M Street NW • Suite 300 • Washington, DC 20036 • 202.223.8196 • www.actuary.org
Copyright 2018 American Academy of Actuaries. All rights reserved.