HealthCheck March 28, 2012
Printer-friendly version

Academy Activities
With March 21 marking the two-year anniversary of the passage of the Affordable Care Act (ACA) and the Supreme Court hearing oral arguments March 26–28 on the constitutional challenge to ACA, focus on health care reform again is center stage. The Academy's Jan. 27 amicus brief on severability of the individual mandate from other provisions of the Affordable Care Act was referenced specifically in a March 18 filing by the federal government (see pp. 8–9). Given that more amicus briefs were filed in this matter than in any other in the history of the Supreme Court, and that few amicus briefs have been cited, the reference to the Academy brief is a significant recognition of the Academy's credibility.
Members of the Academy's Health Practice Council and Federal Health Committee made their annual visits to Capitol Hill on March 12–13. Twenty-two volunteers met with representatives from more than 30 congressional offices and government agencies over the course of two days. During the visits, Academy members responded to questions on a wide variety of issues—many related to the Affordable Care Act—including questions on actuarial value, essential health benefits, the three risk-sharing mechanisms, and Medicare.
In a March 21 letter to U.S. House of Representatives leadership, the Academy's Health Practice Council commented on legislation that included a provision that would repeal the Independent Payment Advisory Board (IPAB), which was created under the ACA to provide recommendations to reduce growth in Medicare expenditures if spending exceeds a certain growth rate. While not taking a position on whether the IPAB should be repealed or expanded, the council's letter provided an overview of the IPAB's function as designed by the ACA. The council also took the opportunity to reaffirm its position that Medicare's long-term financing challenges need to be addressed.
The Academy's Medicare Steering Committee released a new issue brief in March— Revising Medicare's Fee-For-Service Benefit Structure. This issue brief expands upon the committee's initial analysis of potential changes to Medicare's benefit design included in An Actuarial Perspective on Proposals to Improve Medicare's Financial Condition. It also looks at value-based insurance design.
The Centers for Medicare & Medicaid Services (CMS) excluded a significant type of contract reserves from the December exposure draft of the instructions for the Medical Loss Ratio Annual Reporting Form, the Academy's Medical Loss Ratio Regulation Work Group wrote in a Feb. 14 letter to CMS. The work group's letter outlined its concerns and recommended changes to the form.
Legislative and Regulatory Updates

The U.S. House of Representatives on March 22 passed HR 5, the Help Efficient, Accessible, Low-cost, Timely Healthcare (HEALTH) Act, which would repeal IPAB.

The Department of Health and Human Services published final rules:
Implementing health insurance exchanges and qualified health plans. The exchanges will provide a marketplace for individuals and small businesses to compare the prices and quality of private health insurance plans.

Implementing standards related to reinsurance, risk adjustment, and reinsurance. Under the ACA, these programs are designed to mitigate the impact of potential adverse selection and stabilize premiums in the individual and small group markets as insurance reforms and the health insurance exchanges are implemented, starting in 2014.

Implementing policy and procedural changes to Medicaid and the Children's Health Insurance Program (CHIP) related to eligibility, enrollment, renewals, public availability of program information, and coordination across insurance affordability programs.

Establishing requirements for student health insurance coverage under the Public Health Service (PHS) Act and the ACA. The rule defines "student health insurance coverage" as a type of individual health insurance coverage and specifies that certain PHS Act requirements are inapplicable to this type of individual health insurance coverage. The rule also amends the medical loss ratio and annual limits requirements for student health insurance coverage under the PHS Act.

Strengthening the Independent Payment Advisory Board by lowering the target Medicare-per-capita cost growth rate.

Rep. Paul Ryan (R-Wis.) and House Republicans on March 20 released their version of the 2013 budget. The $3.53 trillion plan would revise the Medicare program by providing seniors with a coupon to be used to purchase either a private insurance plan or a traditional Medicare-like plan.
In The News/Media Activities
HHS' Feb. 24 release of a bulletin that detailed how the department will define actuarial value for individual and small group health plans garnered significant coverage—and Academy mentions—in the trade press. CQ HealthBeat noted that CMS utilized options suggested by the Academy in choosing to determine actuarial value by creating a national database using an average of claims representative of the people likely to enroll in such plans. Academy Senior Health Fellow Cori Uccello told BloombergBNA that the proposed options "aim to produce comparisons across plans within a state that focus on cost-sharing differences rather than other differences between plans, such as different provider payment rates and utilization patterns." Uccello told PoliticoPro that "practice patterns vary geographically." She added, "A state-specific dataset could reflect those more local differences in provider payments and utilization patterns."
Upcoming Health Care Reform Events
From the Compliance Officer's and Regulator's Viewpoints: Successful Strategies for Market Conduct Reviews
Webinar: April 4, 2–4 p.m. EDT
Sponsor: America's Health Insurance Plans (AHIP)
For a complete listing of upcoming and recent health care reform events click here.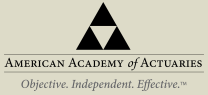 PLEASE DO NOT REPLY TO THIS EMAIL. THIS EMAIL ADDRESS IS NOT MONITORED.
If you would like more information or to contact the Academy, please visit us at www.actuary.org/aboutus.asp

Sign up to follow the Academy on Twitter.
Rather not receive Academy emails? Unsubscribe by emailing membership@actuary.org.
---
1850 M Street NW • Suite 300 • Washington, DC 20036 • 202.223.8196 • www.actuary.org
Copyright 2012 American Academy of Actuaries. All rights reserved.