Having trouble viewing this email? View it in your browser.

March 22, 2012
As was announced in the Actuarial Update in January and February, Academy members will be voting online again in 2012 to elect three Regular Directors to the Academy Board. For a second year, Academy members can nominate themselves or others by petition for consideration as a candidate for Regular Director. The Academy Board instituted the nomination-by-petition process in 2011 on a trial basis with the goal of allowing for competitive elections for Regular Director. Although no members submitted nominating petitions in 2011, the Board has decided to continue the trial for 2012.
The Nominating Committee, given the likely composition of officers to be elected by the Academy Board of Directors later this year, expects that the three Regular Director vacancies for this election should be filled by two Health practitioners and one from any other practice area to maintain the balance of practice area representation across the entire Board as provided in the Nominating Committee Guidelines.
You can nominate a colleague—or yourself—for consideration as a candidate for Regular Director on the Academy Board of Directors. Nominating petitions are now available on the Academy website. At least 50 signatures of Academy members representing at least five employers is the minimum requirement to place a member's name in front of the Academy's Nominating Committee. The deadline to submit completed petitions is April 27. A complete description of the petition requirements and procedures is appended to the nominating petitions available online.
The petition process is in addition to our long-standing procedure of requesting members to recommend themselves or others for Regular Director positions by submitting a name or names directly to the Nominating Committee.
Check the Academy Board Election Center for more information and updates on the 2012 Academy elections.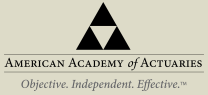 Sign up to follow the Academy on Twitter.
Rather not receive Academy emails? Unsubscribe by emailing membership@actuary.org.
---
1850 M Street NW • Suite 300 • Washington, DC 20036 • 202.223.8196 • www.actuary.org
Copyright 2012 American Academy of Actuaries. All rights reserved.